Prologue and Challenge to Camp Every County Washington
Many say there are two Washingtons: Eastern and Western. In reality, there are 39 Washingtons - one for every county
Ever notice how most people have one or two favorite campgrounds to which they return year after year, never trying anything new? My three "campanions" and I found ourselves camping on alternate weekends at Manchester S.P. and Scenic Beach S.P. on opposite sides of Kitsap County. Month after month. Year after year. We saw mountains, saltwater, and even our native wild rhododendrons. That was the Washington we knew. We also knew there had to be much more. But I hated traveling far from home since I still worked full time. Gary had a genuine rattlesnake phobia, and it took considerable prodding to get him to camp in Eastern Washington. Tom hated crowds and would camp in only the most private of campsites. And John. Well, John hated just about everything (a South Boston thing).

So we decided to expand our horizons. We bought just about every camping handbook on the market, but rarely found satisfaction. They told us nothing of the experience of camping at these places. We learned how many campsites each campground contained, how much they cost, when they were open, how to get there... but what about the experience of camping? How did it make the camper FEEL? What effect did it have on the camper? Did they have the same briny air that we found at Scenic Beach? The remarkably clear view of Mt. Rainer we found at Manchester? What did the forests smell like? How about the sunsets, if they existed at all? But we got none of that.

So the four of us abandoned the camping manuals and set out on a journey over the next five years, eager to discover if the rest of Washington was as beautiful as the one we knew. First we chose some popular campgrounds far from central Puget Sound -- Steamboat Rock S.P., Mary Hill S.P., and Rasar S.P. Then we explored those less known -- Indian Creek CG, Battle Ground Lake S.P., and Takhlakh Lake CG. We were hooked, and soon found ourselves printing out black sand white maps of Washington with just the counties outlined, coloring in the "camped counties," and setting out to find campgrounds in the unexplored counties. We finally camped in county #39 (Garfield County) in the summer of 2017, discovering surprising camping gems along the Snake River and deep in the Umatilla Mountains. We ate mushrooms near Randle, swam in the cool lakes of the Ground Coulee, chased away bears at Spring Canyon, immersed ourselves in ghost towns in the Okanogan, and discovered with awe why remote Palouse Falls was named Washington's Official State Waterfall. Looking back, this 4-year journey became the adventure of a lifetime, one which we hope to capture in this camping manual.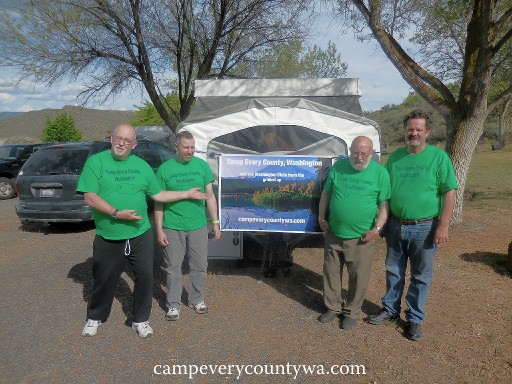 Our Core Crew: John, Tom, my dog Bocachica (looking through the tent window), Gary, and Brendan


Take our advice: Step out of your camping box, your comfort zone or, if you will, your rut. We have a great highway system that can get us anywhere in the state within an 8-hour drive. Those favorite campgrounds will still be there when you get back and, more likely, you will have fresh, new adventures that will make you appreciate your old faves even more. Let new parks work their magic on you. Think of them as an adventure, a treasure hunt, or like Lewis and Clark's "Corps of Discovery."
This is our challenge to campers and map readers like ourselves: get out your maps, pack up your gear, and set out to go camping in all 39 Washington counties.
INTRODUCTION, PART 1


Looking for "The Real Washington"
The State of Washington is a world unto itself, with many distinct regions, habitats, climates, and histories. The million-acre Olympic National Park dominates the northwest corner, with its remote rocky beaches, rain forests, alpine lakes, and picturesque mountains. To the southwest, the North Head lighthouse marks not only the mouth of the mighty Columbia, but also the end of the Lewis and Clark Trail. The Trail then retreats back along the Columbia Gorge, joined by the Snake River flowing to the foothills of the Blue Mountains. In the middle of the state are such natural wonders as the Grand Coulee region, Lake Chelan, Lake Roosevelt, and the Cascade Mountains. In the northeast, mining towns, Indian lands, and spectacular rivers exceed the expectations of visitors. Travelers find that each of these regions is entirely different from the others. In short, one cannot say they have seen the "real Washington" until they have explored every region of the State.

And yet, campers are complex as well. One camper may view well-manicured lawns and concrete parking pads as camping nirvana, while others may view that as fresh hell. Some campers value primal nature in its purest form as home at last, while others may find it vulgar and off-putting. Some haul large RVs for comfort and protection, while others choose to sleep under the stars. Others view camping as an opportunity to relax, unwind and re-connect with solitude, while others use it as a platform to bike, hike, and boat themselves into total exhilaration and exhaustion. Regardless of who deserves the Most Authentic Camper trophy, it would be a shame to drive 300 miles to an unsuitable campground, one that campers would not have chosen had they known more. For this reason, we have chosen only the best campgrounds in each county, and specified the fundamentals that most impacted our camping experience. Furthermore, we have divided the campgrounds into 10 categories that we think will include the widest variety of campers.

Most Appealing Campgrounds to the Senses




Ah yes. Taste, touch, smell, sight, and sound. We all learned those five words in elementary school, until we were mercilessly coerced to think, analyze, then over think, memorize, and be tested until our senses became a distant memory. And so we end up disconnected from nature, torn asunder from our primal selves, and wondering what happened to that inner child that made us so carefree and willing to play. Get yourselves back to the forest. Pick some mushrooms, add them to your campfire stew, and taste the flavors of nature. Wake up to that dissipating mist on your faces that calls in the new day. Hear the rush of the streams, the gentle breeze stroking the leaves of the cottonwoods, and the birds calling each other into action. Smell the wood burning on the campfire, the menthol balm of the cedar trees, and the salt air of the Pacific. See waterfalls that seem too much like a post card to possibly be real. Welcome home campers! Nature is calling!





Most Uniquely Washington Campgrounds




Washington is not California. Or Hawaii. Or Florida. And I say hallelujah to that. No, Washington is utterly unique unto itself. If you don't instantly know you are in Washington, you have wandered into the cookie cutter world of generic campgrounds that have succeeded in dulling your senses and disconnected you from nature. Run, don't walk, and choose one of the campgrounds in this book. They are chosen to show you the best of the magic of Washington State, to let you experience it from the ground up, and to rediscover that inner you that has long forgotten what it feels like to be part of

this wonderful land.





Best Campgrounds for Entire Families




This category could equally be called "Most Everybody-Oriented Campgrounds." Certainly, children have certain needs that adults may not. Who doesn't enjoy watching a content child connect with nature?

That speaks of real camping. What is not so real, and what the term "family-oriented" often means, is campgrounds dominated by a series of complex playgrounds, swimming pools, and ice cream stands similar to those at home. If that's all there is, why not just stay home? No, every good campground should be suitable for children and adults alike. The entire family should be equally engaged in the experience, and not simply adults babysitting the children. It should be a new experience for everyone, and everyone will be happier in the end.



Best Equipped Campgrounds


There is no denying that trailers, RVs, 5Th Wheels, and camping vans have had a huge impact on camping. Even those who still stick to basic tent camping sometimes like access to electricity to recharge cell phones, plumbed bathrooms, running water, and even covered shelters. Some may prefer camp hosts for safety. Boaters prefer boat launches, and swimmers prefer designated swimming areas. And a picnic table or fire grill is always a nice touch, and can only add to the camping experience. Just as all campgrounds are not the same, neither are all campers. It's only natural!


Best Group Campgrounds
The best experiences of my camping lives have been in group campgrounds with anywhere from 12 to 100 people. The game changes entirely. You can organize activities, play games you haven't played since the "Red Rover" days of your childhood, build crude log cabins out of the fallen limbs of trees, erect natural showers on the tops old growth stumps, and even have contests of one sort or another. Anything is possible!



Best FREE Campgrounds


Yes, money changes everything, even when it comes to camping. Free campgrounds are not just for the budget-minded. No, they tend to draw a different type camp camper -- those who come with their hand-crafted camping gear, those who are happy to leave their mobile devices behind, those who provide music via guitars or recorders, and those who prefer to live more deliberately. Pull into Margaret McKinney Campground in the Capital Forest and watch the children running with giddy abandon on the grassy loop, coupled by their parents throwing Nerf footballs. Or camp at Big Meadow Lake in northeastern Washington and climb the old fire tower to watch moose munching on water plants. Or buzz down to the stark Ayers Boat Basin on impoundment of the Snake River surrounded by mesas and rock cliffs. Priceless!



Best Rustic Campgrounds


Just as FREE is not necessarily rustic, the best rustic campgrounds may charge a modest fee. The emphasis here is natural, untouched, and unmanicured. Wanna gather your own firewood? Dip your own water from a pristine stream? Eat when your are hungry and sleep when you are tired? If you have a strong relationship with Mother Nature, you'll be right at home.



Best Hike-In Campgrounds


The best nature has to offer is not always accessed by roads. Sometimes you have to hit the trail, literally in this case, and pack your gear into the wilderness. Just get used to tiny butane stoves, thin nylon tents, and freeze-dried foods, as the wilderness areas are a long way from home. But what you'll find is a cleansing of the senses to hear nothing but the sounds of the breeeze, birds, and crickets; to see nothing but trees, vegetation and wildlife unaffected by human habitation, and smell smells you didn't know were smells. To paraphrase author Anne Lamott, camping in the wilderness on a clear night high in the mountains "smells like moon." Sure beats the smell of diesel fumes down below.

The Pasayten, William O. Douglas, Colonel Bob, Glacier Peak, and Salmo-Priest Wilderness Areas offer the best opportunities for hike-in camping. But will leave that type of camping to the wilderness hiking experts, as this is beyond the scope of this book. We will focus instead on the more accessible hike-ins to include the largest number of campers, young and old. These shorter hike-in camping experiences are often the best opportunity to immerse young campers in nature, leading to a lifelong love of the outdoors.



Best Bike-In Campgrounds


This is Washington. Cities like Seattle and Spokane have bicycle paths everywhere, and it is similar in the rest of Washington. For many, it is the preferred mode of transportation. The San Juan Islands, the Pacific Coast and Olympic Peninsula's Highway 101, southern Washington's Highway 64 along the Columbia River, and Highway 20 along the incredible but little-known Pend Oreille River provide bicycle camping adventures with great access to facilities and supplies along the way. Small towns provide groceries, laundry service, and campgrounds with H/B (hiker-biker) campsites reserved for those traveling light.



Best Boat-In Campgrounds


Last but far from least are those campgrounds accessible by boat. Most people think this is limited to the western side of Washington. The San Juan Islands, Whidbey Island, and the Puget Sound islands are well-known for boating campers. The Cascadia Marine Trail (CMT) stretches over 140 miles from the Canadian border to Olympia, including 66 campsites in multiple locations for non-motorized beachable watercraft. But don't count out the eastern side. Ross Lake in the NCNP has 25 boat-in campgrounds, Lake Roosevelt has 27, Lake Chelan has 16, and the Greater Columbia Water Trail (GCWT) includes too many to count. You want to see the real Washington? Most of it is accessible by water.

INTRODUCTION, PART 2
Bask in the Complexity of Washington State Campgrounds

Meticulous Washington State Park campgrounds. Spectacular but over-regulated National Park campgrounds. Shaggy but natural Department of Natural Resource campgrounds. Campgrounds given new life in Southeastern Washington by the Army Corps of Engineers. Campgrounds competently and meticulously maintained by various Indian Tribes. Private RV Parks and campgrounds that understand good camping and leaving the land in its natural state. State Forest Camgrounds that allow campers into the world of the working forest. National Park Service campgrounds dotting the shores of Lake Roosevent. KOA campgrounds that provide more than just added amenities. Membership Camping Club campgrouds that accomodate guests on all but select major holidays. These are all available to those willing to seek them out. Don't dismiss them based on category. If you choose wisely, you may be delighted and have memories that will last a lifetime.
Washington State Parks
There is no denying that our State Parks are under siege. Budget cuts, overuse, and rising vandalism all play a role. We currently have 77 camping State Parks that spread out into 29 of our 39 Washington Counties. On he positive side, this is where you will find most of the State's natural treasures - everything from lighthouses and saltwater beaches to mighty rivers to Old West towns to the State's official waterfall at Palouse Falls. Most are reservable, ensuring you won't be turned away at the gate. All of them have running water, picnic tables, paved roadways, and established campsites. On the negative side, they can be crowded, too manicured for many avid nature lovers, and fairly costly. But they will create memories that delight, educate, and even transform us as residents of this most beautiful of states.

National Park Campgrounds
I stand out as the member of our small band of campers that tends to avoid National Park Campgrounds. In their defense, these often rest in the shadow of not only our greatest natural wonders, but out greatest national treasures. Who could help but fall in love with majestic Mount Rainier, the whimsical Olympic Mountains, or the rugged, unspoiled peaks of the North Cascades? But while our State Park campgrounds suffer from overuse and budget cuts, the National Park campgrounds suffer even more. They tend to be older, more crowded, more heavily regulated, and typically lack amenities like hookups or a reservation system. Of course there are a few standouts (Ohanepecosh at MRNP, Colonial Creek at NCNP, and Kalaloch in the ONP). Just choose wisely. That's what it's all about anyway.

National Park Service (NPS) Campgrounds
These are quite a departure from the actual National Park Campgrounds mentioned above. They make up in numbers what they may lack in the way of amenities. The result: less crowding, better availability, and access to the "smaller wonders" that you won't find on the postcards. There are 27 car and boat-in campgrounds on Lake Roosevelt alone, picking up the slack in Northeast Washington, which otherwise lacks State Park campgrounds. These typically offer only running water, parking pads, and picnic tables by way of amenities, but are readily available, less expensive, and can help you discover the real nitty-gritty of what makes Washington such a gem. But don't hurry once you get here. Linger. Take some time. Wander the paths. You may disover the original townside of Kettle Falls. Or the only Washington State Ferry in Eastern Washington at Keller Ferry. or even the original buildings of the frontier emcampment at Fort Spokane. It's all waiting, and you won't have to stand in line.

Municipal, County, and Regional Parks
These are operated by local governments, and fill in many camping gaps in places far from the National and State Parks. These are most prevalent in the more populated counties with larger budgets (King, Snohomish), but also in the smaller counties which otherwise would have few camping facilities at all (Benton, Wahkiakum). Their biggest strength is that they are all utterly individual. Skamokawa Vista is set in a town once accessible only by a series of natural water canals flowing into the Columbia River. Crow Butte occupies an entire bridged island on the Columbia, a lush paradise in otherwise arid country. Kamiak Butte occupies an entire mountain in a series of otherwise random, regularly irregular windswept hills, giving a birds-eye view of this delicately beautiful region. So don't underestimate these campgrounds. Several of them make our top 25 list of favorite campgrounds in Washington, and are places to which we return again and again.

U. S. Forest Service (USFS) Campgrounds
Anyone who has ever camped with me knows that I prefer just about any USFS campground to any other type. Most of Washington is defined by its forests -- in the Olympic, Cascade, Blue, and Selkirk Mountains, on the larger islands of Puget Sound and the Salish Sea, in its many State Forests, and in the Gifford Pinchot, Okanogan-Wenatchee, Colville, Olympic, and Mount Baker-Snoqualmie National Forests. You will seldom find hookups, reservations, paved pads, or elaborate technical equipment. Everything is carved from the forest itself, from picnic shelters, to large canopied campsites, to wooden steps guiding campers down slopes or to the edges of pristine streams. This is the real Washington, the most natural, and the Washington that is easiest to experience from the ground up.

State Forest Campgrounds
These campgrounds are a departure from the rest. They are often set in working forests, where industry and recreation have worked and plotted for decades to peacefully co-exist. Our personal experience is that they have succeeded. In the Capital State Forest, for example, ORVs are permitted in some campgrounds but prohibited in others. Logging occurs far from the designated "quiet campgrounds" such as the marvelous Margaret McKinney Campground, allowing many more campers to follow their bliss. This works similarly in Yakima County's Ahtanum State Forest, Okanogan County's Loomis-Loup Loup State Forest, Clark County's Yacolt Burn State Forest, and many others. Don't knock 'em until you've tried 'em.

Department of Natural Resources (DNR) Campgrounds
These may be the most under-appreciated campgrounds in Washington. While they tend to be "shaggy" -- meaning left in their natural state -- they also seem to attract campers who come to recapture their bond with nature. You won't find playgrounds, clubhouses, or souvenir stands here. What you'll discover is how Sitka spruce and Douglas fir grow in their natural state, free of manicuring clippers that want to trim them like Christmas trees. Nope, here they will grow where the sun draws them, the wind makes them retreat, and the bottom branches shed naturally when the tips of the trees reach to the sky. Campers here display homemake camping equipment, formed out of the very elements in which they surround themselves, and children run and play with a genuinely edearing abandon. This is nature, folks. Sorry if your cell phones don't have 4-bar reception, or your TV reception fades in and out. On second thought, we're not sorry at all.

U.S. Army Corps of Engineers (COE) Campgrounds
The first thing to remember about these campgrounds is that the COE, as any governmental agency, is under a state of constant change. The majority of good campgrounds in southeastern Washington are operated by the COE, many of which were once Washington State Parks. The result: lower costs, better availability, yet operated as well if not better than when run by the State. They have similar amenities, and access to the same local facilities. The 24 COE campgrounds in Washington are found along the Snake River in the region between Pasco in Franklin County and Lewiston Idaho, and along the Columbia River in Klickitat and Benton counties. They are all located on impoundments of both Rivers, dammed into a series of lakes, starting with Lakes Celilo and Umatilla (the Columbia River between eastern Washington and Oregon). The other lakes are formed from the Snake River, starting in the west with Lake Wallula near Pasco, to Lake Sacajawea, Lake West, Lake Bryan, and Lower Granite Lake going east. While some of the COE campgrounds are very basic (Ayers Boat Basin and Nisqually John), others (Hood, Charbonnneau and Fishhook) are more developed and, most of all, all those in Washington are located on great bodies of water.

Burea of Land Management (BLM)
The BLM has come a long way since its establishment in 1946, fomed from the merger of the General Land Office and the U.S. Grazing Service. While we've certainly done our share of "grazing" while camping, these organizations became obsolete with the change in attitudes toward public lands. Over time, the lands that had once been used to encourage homesteading, western migration, and livestock feeding gave way to more complex recreational needs coupled with public land conservation. The campgrounds themselves are among the most simple. Some might not think of them as campgrounds at all, but merely land that permits dispersed camping. Some campers feel more connected to nature in this environment, not just renting a parking space, but being one with the land. Come on, nature lovers, this just might be your ticket.

Bureau of Reclamation and Public Utility District (PUD) Campgrounds

Central Washington, once dubbed the Columbia Desert, has been transformed into a land of blooming orchards, rugged canyons, and a camper's paradise with the introduction of massive, systematic irrigation in this enormous region once dismissed as an uninhabitable wasteland. The Missoula Floods, caused by the melting of ice dams forming Ice Age Lake Missoula, broke loose some 15,000 years ago rechanneling the Columbia River through the region that is now Grant County. Soil was washed away, deep rocky canyons formed, and mesas were defined. By the time the Columbia returned to its original course about 4,000 years later, the land was reduced to a series of scablands, unable to support life apart from scrub brush and and bunch grass.

In 1943, the Columbia Basin Project Act was signed, which led to the building of the Grand Coulee Dam, then largest concrete structure of its kind. It led to the irrigation of over one million acres of arid land. Of course, the most pressing purpose of the Dam was to generate electricity, and the power companies were in turn pressed to create recreational opportunies to replace the land taken by reservoirs. It has now become a camper's playground, featuring State and NPS campgrounds, plus those sponsored by local PUDs. These include Steamboat Rock, Sun Lakes and Potholes State Parks, and Crescent Bar Recreation Area (Grant Co. PUD). Other regions with extensive PUD campgrounds incluce the Tacoma Power Project (along Alder, Mayfield, and Riffe Lakes in Pierce and Lewis Counties), and numerous campgrounds in Cowlitz County built by PacifiCorps, who dammed the Lewis River to create Merwin Lake, Yale Lake, and the Swift Reservoir. While I personally am not drawn to reservoirs (as the shores have had little time to return to a natural state), these are enourously popular with campers, and families in particular.

Washington Department of Fish and Wildlife (WDFW)

The WDFW is synonymous with conservation, which they would define as preservation of natural environments and the ecological communities, including management for human use. It is not unusual to find more fisherfolk at these campgrounds than campers, or to have the entire campground to yourselves. They are stark, undeveloped, and occasionally delightful. Imagine our delight when we stumbled upon the seep lakes and the Columbia National Wildlife Refuge hidden away in a stark corner where Adams and Grant Counties meet -- a series of small lakes and wetlands in the former "Columbia Desert" -- formed by the seeping of reservoirs higher up raising the water table down below. Imagine our amazement when we laid eyes on our very first Sandhill Crane hovering over little Lyle Lake in an area that was once devoid of life? If this isn't the perfect backdrop for camping, I can't imagine what is.

Kampgrounds of America (KOA) Campgrounds
Sometimes amenities matter. Sometimes on the family vacation, you just need to do laundry, and don't want to spend an entire day driving to the nearest town to do so. Or sometimes a good reliable shower ranks right up there with the best wildlife viewing. And at other times, the wide open spaces don't seem to be calling your name. We get that, and have found many KOA Campgrounds to be a welcome relief from our more primitive camping adventures. Our experience with a handful of them is that they were set among the most reprentative Washington State locales -- at Willapa Bay, Lyons Ferry, Ellensburg, and Newport, just to name a few. They are tidy, clean, well-equipped, and should not be overlooked.

The Cascadia Marine Trail (CMT)

This saltwater trail stretches over 140 from the Canadian border near Point Roberts to Olympia, winding through the San Juan Islands and the islands of Puget Sound. The CMT includes 58 campsites open to non-motorized beachable watercraft, as well as motorized boats. Other water trails for boat-in camping include the Greater Columbia Water Trail (GCWT) which encompasses 500 miles of water from Richland north to the Canadian border; and the Pend Oreille River Water Trail in northeastern Washington, which is described in more detail under the section "Pend Oreille County."

RV Parks and Resorts
We admit it. Sometimes at the end of the camping season we like to retreat to a campground with more amenities. Many RV parks also have great tent camping and hiking trails; others seem to be mere stopovers for those on their way to grander destinations. We're not crazy about the latter, and have not included them in this project. The RV Parks we have included are the good ones that feature more camping than lodging. It's hard to focus on "the real Washington" when your sights are set on the next destination, or when you're merely doing an overnight sleepover. Every RV Park we have chosen includes tent camping, and fits our criteria of "Camp-Worthy."

Specialty Parks
This website includes very few "specialty" parks. By this we mean campgrounds which specialize in a singular activity other than camping: fishing, hunting, dirt biking, power boating, or mere proximity to a local attraction. We have seen fishermen, boaters, hikers, and site-seers leave the campground early in the morning, returning late at night, not noticing or caring that the campsite had no trees, no daytime quiet, and no shade. Other campgrounds seem defined by the roar of ORVs, boat engines, or busy highways. We asked myself the question: would we enjoy our experience if we never left the campground? If the answer is no, it may be a good fishing, hiking, or boating experience, but not necessarily a good camping experience.

Choose Your Campsites Wisely
My campanions and I have very different ideas about campsite selection. The only thing we agree on is that it's important. I like to mix it up, sometimes socializing with other campers, other times seeking solitude. Two of our companions travel with cockatoos. Birds. Noisy, tropical, chomp-anything birds. So altitude becomes an issue, as it gets too cold at night for them. Their sudden squawks can bother the uninitiated, so bigger sites are necessary. Gary, our most senior camper, feels vulnerable without other campers around him. He is also uncomfortable if he's more than a few yards from the bathroom. John is more comfortable under a full canopy of trees. Our dogs can bark up a frenzy if other dogs come too close to our small campsite -- and if they're not happy, no one is happy. So we choose our sites very carefully. Factoring in privacy, size, location, vegetation, and even shade versus sunlight can be a vital link in your camping plans. We try to communicate this in words, and include data like elevation, site size, and campsite vegetation, but recommend that you also consult photos from the Washington State Park reservation websites, and more specific websites such as campsitephotos.com.
Camping Style
Civilian Conservation Corps (CCC)
From 1933 to 1942, as America rose out of the Great Depression, President Franklin D. Roosevelt organized the CCC to restore the nation's forests, enhance our National Parks, and create a system of state parks. It employed over 3 million people called the "dollar a day men" who built great stone lodges, campsites, roads and trails, all done by hand, pick, axe shovel and wheelbarrow. Many of these are still in existence, adding a distinct style marked by permanence, sturdiness, and hand hewn determination. Mount Spokane State Park (S.P.) features CCC-built picnic areas, the road to the summit (Cooks Road), and the Vista House. Moran S.P. on Orcas Island is still noted for the CCC's roads and bridges, stone fireplaces, the Log Kitchen Shelter, and the famous Mount Constitution Tower. Deception Pass S.P. still maintains 25 CCC-built structures, including picnic shelters, and the stone and log Bowman Bay Bathhouse houses the Washington CCC Museum. While other groups have built similar structures on a smaller scale, none of them match the powerful vintage character of the CCC.

"Glamping" Versus Camping
"Glamping," for you hard-core outdoor types who've never heard the word, is urban slang for "glamorous camping," or a luxury form of camping which includes expensive equipment, high-class facilities, luxury food and drink, etc (macmillandictionary.com). it has a negative connotation among the more rugged, traditional campers. But don't worry, glampers, we are your biggest fans. Ever prepare Boeuf Bourguigonne on a single propane burner? We have, and Julia Child would have been proud. We've also doctored up Kraft Mac and Cheese with leftovers, and enjoyed that just as much. Ever eaten on a picnic table covered in citronella candles and expensive 'bug zappers" to keep the bugs from sharing your rotisserie chicken and broccoli? Yes, so have we. My single most vivid childhood camping memory is eating "Bug Stew" with the Taylor family at Sun Lakes S.P. It's not the food, or the equipment, or the facilities: it's the experience. The memory. What it means to be a part of nature. Nature doesn't demand that we be perfect. But mixing a little glamping with your camping, laughing at your own mistakes or self-indulgence, can keep every camping experience fresh and new.
Boondocking
The term bookdocking comes from the Filipino/Tagalog word "bundok" (or mountain), adopted by American troops during World War II when they his in unoccupied mountain land to remain undetected. It has come to mean a brushy rural location, implying being miles from nowhere. It is applied most often by RVers who dry camp alone in undisclosed locations at no cost and with no neighbors. But while the boondocks may have a negative connotation, they can make for the most beautiful, restful, and memorable camping. These sites are most often found along mountain roads between established campsites, or along rivers where campers have direct access to rivers or streams. In our ramblings, the most beautiful boondocking sites are in Barlow Pass on the Mountain Loop Highway (Hwy 92/FR 20) along the South Fork of the Stillaguamish River in Snohomish County. Other great boondocking sites are along Mountain Highway 128 in Garfield Co., and the Tucannon River Road (Hwy 47) in Columbia Co.

This is perhaps the least known camping form of all, but etched into my mind from childhood. If you grew up in rural Western Washington or Northeastern Washington, you are familiar with the logging spur -- those locales torn asunder from the ripping of chain saws, logging trucks, and the green chain. And once this occurs, the logging companies often leave the area for many years. But they leave an intriguing if not troubling landscape, with an abunance of available firewood, foraging animals, and a very "Mad Max" post-apocolyptic feel. There are stumps, snags, and gravel roads to create camping adventures where childhood games take on a dark shade, but where you can also watch nature regenerating itself. I have not returned to the logging spurs as an adult, but the price is right, you won't have to make reservations, and you won't have those pesky neighbors to disrupt your camping experience.

Now that You're Chosen a Camp-Worthy Campground,
Let's Talk Camping-Compatible Recreation

Some activities are clearly consistent with camping: canoeing, kayaking, hiking, fishing, and even less popular actitivities like mushroom-gathering, cave exploring, gold-panning, and so on. Other activities... not so much. While I appreciate hunting as an activity, I don't want bullets whizzing through my campground. And for you who enjoy noisy activities like jet skis, Off-Road Vehicles (ORVs), and power-boat racing --- have a good time... in the big lakes, the urban areas, and the logging spurs. We campers are there for the quiet, the connection with the land, and to re-connect with nature. I am genuinely happy when campgrounds are constructed to allow campers and ORVs to peacefully co-exist. The activities listed in this website are quieter, varied, and sometimes a bit peculiar, but they are an add-on to camping itself, not the only reason we're there. Please see Appendix 1 at the back of this book for more information.

Recreation Passes: Washington's Best Values
There is no denying that camping in designated campgrounds can be expensive. Even a quick visit to a State Park to munch on your brown bag lunch can set you back ten dollars. So be smart. Camping passes are readily accessible to all, and are the best values out there.

1. America the Beautiful Passes - : These are the most sweeping of all passes, and pertain specifically to the National Parks and Federal Recreation Lands, including the National Park Service, National Forest Service, U.S. Fish and Wildlife, Bureau of Land Management, and Bureau of Reclamation lands. Day Use fees are waived, while boating and overnight camping fees are reduced by 50%. There are two types of Passes. The Senior Pass requires U.S. citizenship or permanent residency and age 62 or older. A lifetime pass costs $10. The second type, the Access Pass, pertains to both veterans and those with disabilities. It requires documentation by the Veteran's Administration, Social Security Disability Income or Supplemental Income, a vocational rehab agency, or a statement from a licensed physician, and is free of charge. A free yearly Pass is offered to current US Military and their dependents. Both passes can be obtained in person on site at the various facilities.

2. The Discover Pass - This is a vehicle pass for access to Washington State Parks, and lands operated by the Washington Department of Fish and Wildlife (WDFW) and the Washington State Department of Natural Resources (DNR). It waives other day use fees to over 100 developed state parks, 350 primitive recreation sites, 700 water access points, more than 80 natural areas, and 30 wildlife areas. This $30/year pass does not give overnight camping discounts, but allows access to popular facilities that may not be present in every campground.

3. The U.S. Forest Service Pass - I am a frequent visitor to the USFS campgrounds as a Day Visitor, sometimes on my way to conduct business or visit family. I enjoy breaks to walk the dogs, take a few snapshots of birds in the trees, or to visit a magnificent waterfall. It changes the whole experience when you pay it forward, instead of tracking down a ranger or pay station to pay the day fees. Keep it about the experience, not the administration! It does not cover overnight camping costs but at $30 per year, it's a steal.

4. Disability Pass - this gives 50% discount on nightly camping at Washington State Parks. It is offered to Washington State residents who are legally blind, profoundly deaf, developmentally disabled, or who meet the disability definition used by the U.S. Social Security Administration. It is free of charge.
5. Disabled Veteran Lifetime Pass - this offers free camping to veterans at Washington State Parks with a documented service-connected disability of at least 30%. Proof of identification will be required at check-in. It applies to campsite fees only (not yurts, cabins, or other rentals) but is free of charge.

Abbreviations
ADA: Americans with Disabilities Act, or, in our context, wheelchair-friendly campsites.
BLM: Bureau of Land Management
CCC: Civilian Conservation Corps
CMT: Cascadia Marine Trail
COE: U.S. Army Corps of Engineers
DNR: Department of Natural Resources
H/B: indicates Hiker/Biker campsites
Hwy: Highway
KOA: Kampgrounds of America (a private campground chain)
K/M: stands for K/M Resorts of America,
MRNP: Mount Rainier National Park
NCNP: North Cascades National Park
NPS: National Park Service
ONF: Olympic National Forest
ONP: Olympic National Park
ORV: Off Road Vehicles
PUD: Public Utility District
S.P.: State Park
USFS: United States Forest Service
WDFW: Washington Department of Fish and Wildlife