Photos: Miller River Group Campground
When it comes to group campgrounds, you can either be elaborate and organized (like the events I organized 2008-2010 for a men's group), or completely informal, with both individual sites and public areas for sspontaneus meals, card games, or whatever strikes your fancy.
In 2008, we did a mock up of the Beijing Olympics, which were taking place at the same time. It was the Year of the Bear. Our battle with the International Olymic Committee became so ridiculous, our conflict made the papers, including the front page of a Swedish newspaper.
My dog Boca was particularly fond of the makeshift rickshaws. She didn't mind the political incorrectness.
Since I forgot the canopy for the giant cover in the common area, I improvised with shop rags to make it look like a (?!) makeshift pagoda. No one was any the wiser:
In 2009, we did a mock up of our hillbilly roots. The movie "Oh Brother, Where Art Thou" and the song by the Soggy Bottom Boys inspired us to poke a little fun at ourselves by recreating a "hillbilly" village:
The Road Kill Grill drew lots of hungry customers. Armed guards kept order:
Directions are always a problem in hill country, so we made sure there were lots of signs to nearby towns, hoots, and hollers: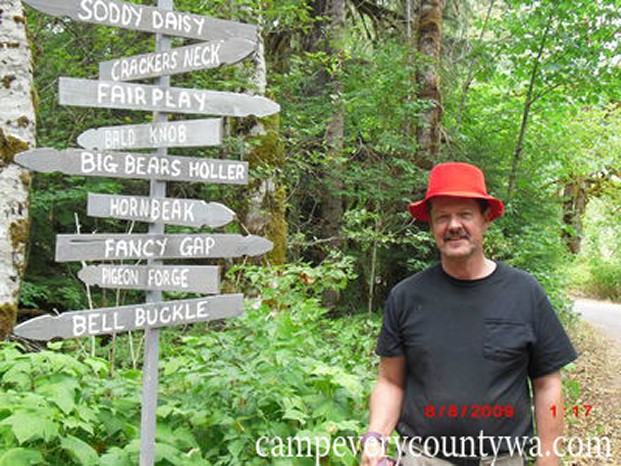 In 2010, we took on the classic campy musical "South Pacific" with our camping celbration we called "Belly Hai." We started by decorating our moving truck like a French Polynesian village:
We set up an eagle-bear totem and a coffee bar in a "traditional" Tiki hut.

We marked the individual campsites with seashell signs: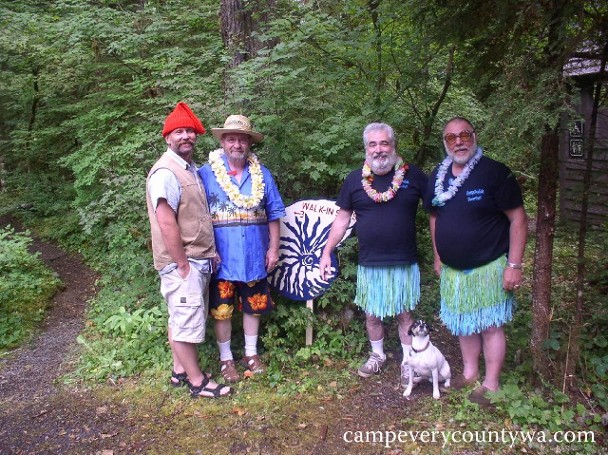 On our next trip over Steven's Pass, we'll be taking more pictures of the Group Campground in its more natural state. It is a great place for low-key, relaxed campging as well... and it's a whole let less trouble... Stay tuned.