This is a view of the north Hood Canal from Mt. Walker. Seal Rock Beach lies on the western shore of Hood Canal, just south of the tip of the Coyle (Tuanda) Peninsula, and looks across the water to the Kitsap Peninsula near Scenic Beach S.P.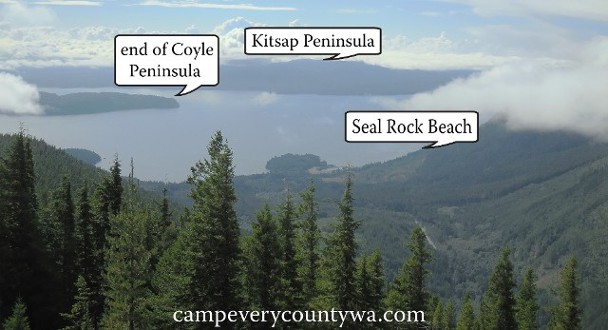 Seal Rock is a very quirky, vertial campground. It is built on a hillside ending at Hood Canal. Most campsites are large, but require several steps up.
The following two pictures are views of the same campsite, designed to both deal with the slope and give good views of Hood Canal, as well as accomoding large RVs on the pavement below:
The Loop Road at the bottom of the slope (closest to the Canal) offers flat pull-outs for RV parking, which can then serve as extra privacy for the walk-up sites:
The Host Site is quite a set-up, with its amazing 72-seat custom RV: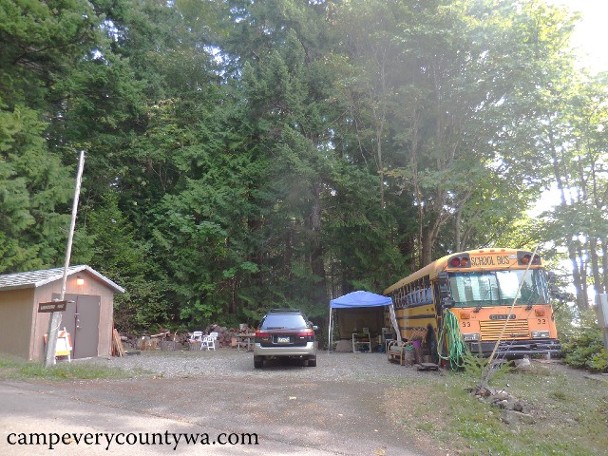 But it is rocky, barnacle-laden Seal Rock Beach that represents the "real" Hood Canal and, to many, the "real" Washington.
My youngest dog uncertain about maneuvring the steep steps.
The Marine Interpretive Trails follows the shoreline of Seal Rock Beach:
The Day Use Area offers day-use campsites, and the Yesterday and Today Interpretive Trail: