The marina and day use area greet visitors the moment they enter the park.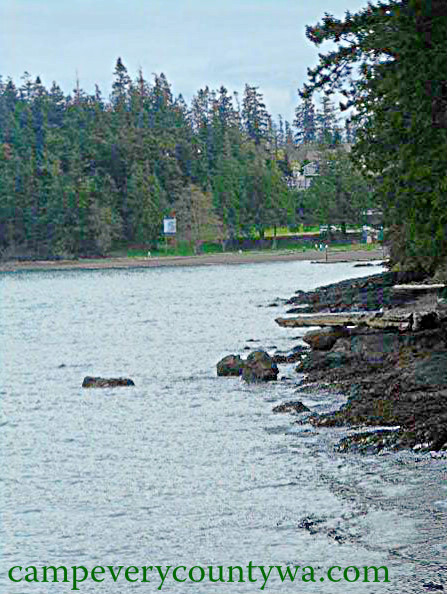 The campsites are wooded and generally well-spaced, but not always level.
The 2.2-mile loop road walk continues past the campground and follows the rugged coastline:
The soutern end of the loop road walk features views of Burrows Channel:
The entire park is a tribute to the people of Anacortes, including memorials, local poetry, and history. This begins with the marina near the entrance, and ends with the grave memorial at the south end of the park.

The poetry of local poet, performer, and educator Nancy Pagh is carved on this cedar block along the loop road walk:
Word Waves is a collaborative public arts literature project held at the park from October through November of each year:
A long-time Anacortes resident is commemorated with a bench for resting walkers :
The original park land was donated by Tonjes Havekost who asked his surivors to "Make my cemetary a park for everybody." It is a popular spot for weddings:
The Tommy Thompson Trail starts in the heart of Anacortes, and currently continues across an old railroad tressle to March Bay. It is hoped that it will eventually connect with Washington Park, 3 miles away: